Date / Heure
Date(s) - 01/10/2022
13h00 - 23h59
Emplacement
Octogones
19 avenue gaston berger
69100 Villeurbanne
France
Jeu : Vampire Rivals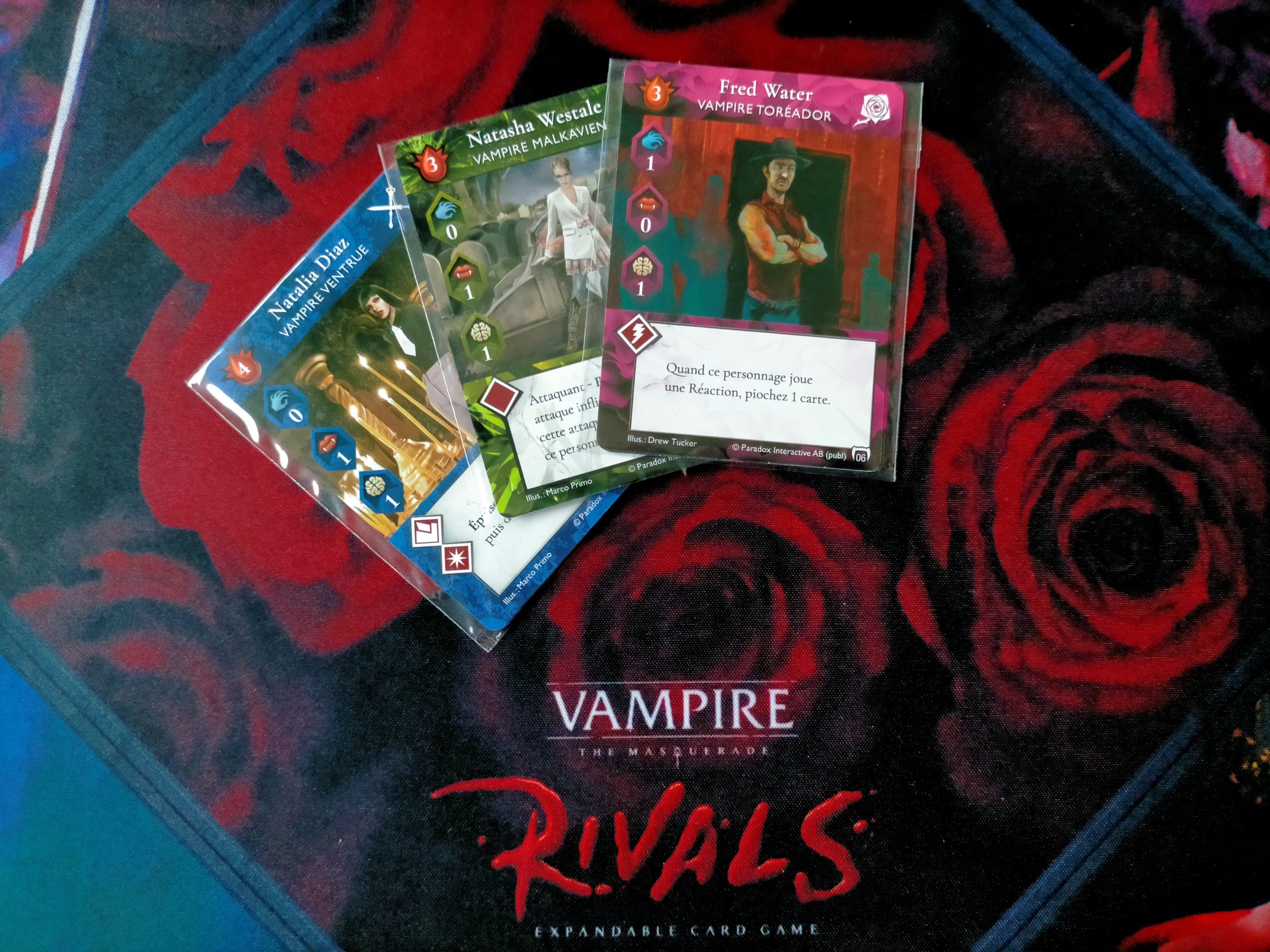 - Nombre de joueurs : 32
- Contacter l'organisateur : Origames
OCTOGONES est heureux de vous proposer un tournoi Prince of the City de Vampire : The Masquerade – Rivals
Le tournoi pourra accueillir 32 joueurs Vampire.
INSCRIPTION: sur notre site
Format : Deck composé grâce à la boîte de base, de l'extension Sang & Alchimie, de l'extension le loup & le rat et des 4 cartes promo (Smoke, Fred Water, Natalia Diaz, Natasha Westale) soit en VF ou les équivalence en VO, Proxy autorisé. En 1 vs 3 ou 1 vs 1 (si moins de 12 inscrits)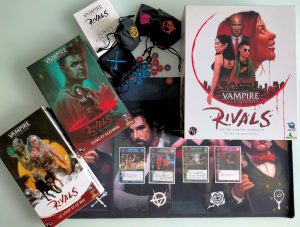 Construit selon les règles du jeu. (40 à 60 cartes dans le deck, playset des cartes en fois 3, etc)
De plus, si sur votre liste de deck, vous avez besoin de carte promo alors on vous la/les fournira.

Chaque joueur devra apporter le matériel suivant pour un tournoi.
Proxy de cartes autorisés 🙂
• Un deck Bibliothèque de 40 à 60 cartes
• Un deck Faction de 7 cartes
• 1 carte Refuge
• 1 carte Cabale
• un deck Cité de 27 cartes
• 3 ensembles de jetons (Meneur et Sang/Prestige) de trois couleurs différentes. (1 ensemble = 32pt avec 6 pions de 3 au maximum)
• Jetons Rivaux 1-4
• 1 jeton Premier Joueur
• Au moins 13 jetons Cabale
• Au moins 4 jetons 'Sans Influence'
• 1 listes de deck avec le nom du joueur et le contenu de chaque deck
Vous trouverez sur le site de Renegade les informations suivantes :
Règle Boite de base
Télécharger - Vampire-RIVALS-regle.pdf
Règle Extension Sang & Alchimie
Télécharger - SKU15-Sang-et-Alchimie-Regle.pdf
Règle Extension le Loup & le Rat
Télécharger - SKU16-Loup-et-Rat-Regle.pdf
Clarification des règles et cartes
(mise à jours en cours)
le règlement pour les tournois
(mise à jours en cours)
une liste vierge de deck pour vos joueurs. Télécharger - vampire-tournoi-deck-1.pdf
Dotations :
Le gagnant aura sa carte Vampire et son tapis de champion 🙂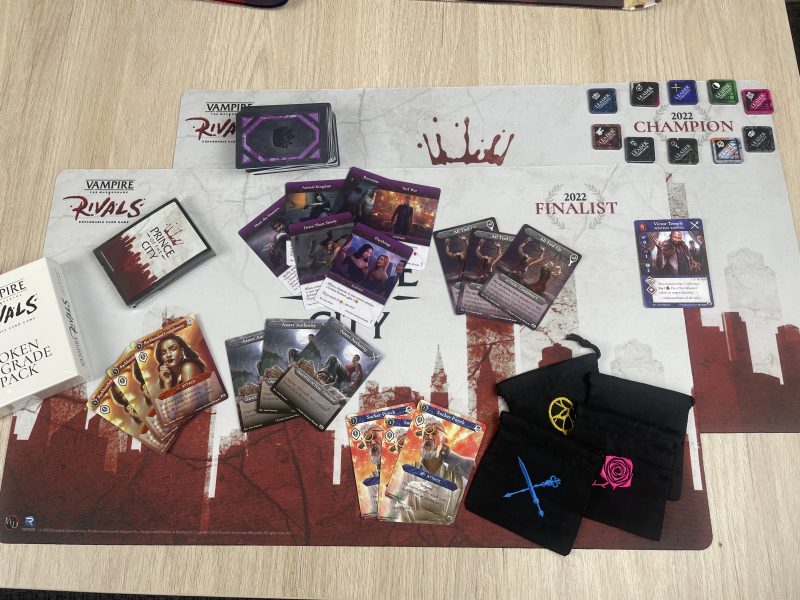 Les finalistes auront les nouvelles boites de rangements en exclusivité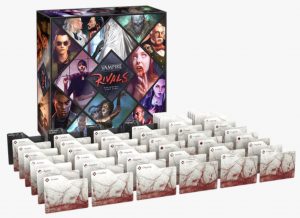 Tous les participants recevront un Victor Temple, les 4 cartes promo de la 1er Saison, d'un pack de protège cartes Prince of the City, de pion meneur en acrylique et un bon d'achat de 5-10 € à notre boutique en ligne.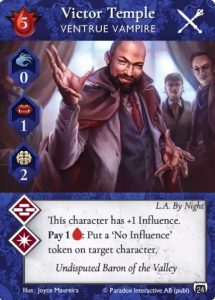 Les goodies comme  les tokens de meneur , les agendas acryliques, les protège-cartes, les tapis, les pochettes tissus et cartes alternées seront TOUS distribués en fonction de nos stocks et il  y en aura des cadeaux pour tous.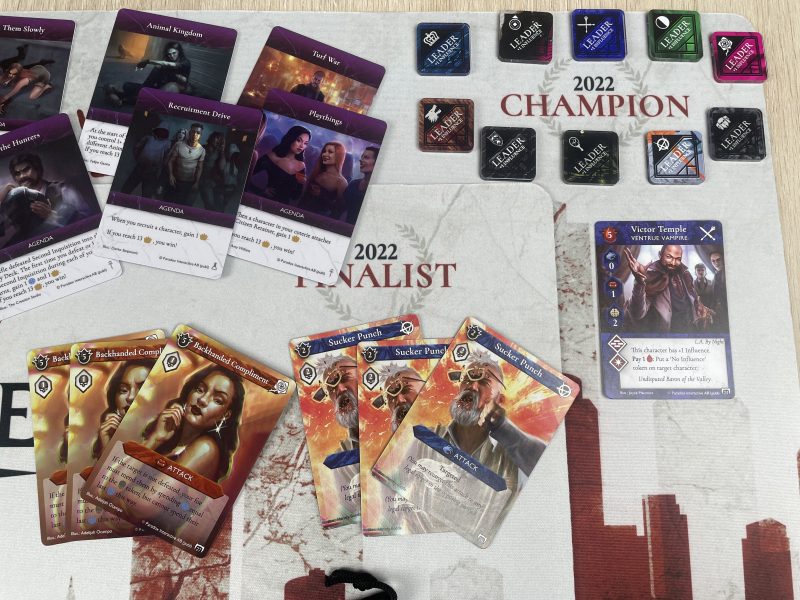 Réservation : 9 € et c'est tout 🙂
Les réservations seront pour 32 joueurs.
Vous pouvez faire des decks et vos listes sur https://www.lotusnoir.info/rivals/
Réservation
Les réservations sont closes pour cet événement.