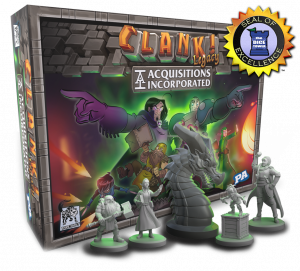 Un Clank! en mode campagne
Acheter ce jeu
CLANK!™ Legacy: Acquisitions Incorporated est un jeu legacy (comme son nom l'indique clairement). Les choix que vous faites en jouant peuvent influencer vos prochaines parties. Vous effectuerez des modifications permanentes sur le matériel en ajoutant des autocollants sur certains éléments du jeu, en écrivant dessus avec un marqueur (à vous de le fournir !) ou même en les détruisant (non, vraiment ! On dit bien "détruire" ce qui signifie retirer des choses de manière permanente de la boîte de jeu et ne plus jamais les utiliser).
Vos amis et vous-mêmes allez vivre une aventure dans le but d'établir votre propre Franchise Acquisitions Incorporated au bout d'une campagne d'au moins 10 parties. Vos décisions façonneront votre propre exemplaire de ce jeu de plateau, un environnement personnalisé pour vos futures parties.
Pour pleinement apprécier le jeu et pour préserver les surprises qui émaillent cette campagne, gardez bien à l'esprit les conseils suivants :
Nous vous conseillons fortement de faire lire le livret de règles par plusieurs joueurs pour vous assurer que les règles soient correctement appliquées.
N'hésitez pas à consulter toutes les mises à jour des règles et les réponses aux questions fréquemment posées sur la FAQ (à venir).
Si vous avez déjà joué à la version de base de CLANK! Les Aventuriers du deck-building, soyez attentif au symbole en bas de certaines pages. Il indique les principales différences de règles avec le Legacy.

LES NOUVEAUX ÉLÉMENTS DE JEU
Le Livre des secrets contient l'histoire de la campagne. En cours de partie, il vous sera demandé de vous rendre à des Paragraphes numérotés dans ce livret et de les lire à voix haute, pour tous les joueurs. Vous pouvez désigner un joueur qui sera le lecteur ou lire à tour de rôle, cependant chaque Paragraphe (et les décisions qui s'y rapportent) s'adresse au joueur qui a déclenché sa lecture.
Quand vous lisez un Paragraphe, lisez-le entièrement. Si vous vous arrêtez en plein milieu pour faire ce qu'il vous indique, n'oubliez pas de lire la suite pour le terminer. Le livret de règles vous précisera quand utiliser le Livre des secrets.
Ne lisez le Livre des secrets que quand on vous demande de le faire. Évitez de lire autre chose que le Paragraphe spécifié.
Le Cardporium contient les cartes que vous ajouterez au cours de la campagne. Avant votre première partie, ouvrez la boîte, retirez le film plastique de chaque groupe de cartes et remettez-les dans la boîte sans les mélanger ni les regarder.
Chaque carte a un numéro unique sur le côté droit (les cartes doivent être classées dans l'ordre). Utilisez ce numéro pour trouver des cartes spécifiques sans regarder les autres.
À chaque fois que vous prenez une nouvelle carte, lisez-la à voix haute (ou montrez-la à tous les autres joueurs) avant de la placer à l'endroit indiqué par le Livre des secrets.
Les Planches d'autocollants (cachées dans une enveloppe) sont utilisées pour modifier les éléments du jeu au cours de la campagne.
Certains autocollants seront collés dans le livret de règles. En effet, certaines règles présentées dans des encadrés seront ultérieurement recouvertes avec un autocollant présentant des règles révisées. D'autres encadrés, pour l'instant vides, seront complétés par de nouvelles règles. À chaque fois que vous ajoutez un autocollant avec des règles, lisez-les à voix haute aux autres joueurs.
Il vous sera indiqué dans le Livre des secrets quand vous devrez utiliser le Cardporium et les Planches d'autocollants.
Évitez de regarder quoi que ce soit d'autres que les cartes et les autocollants mentionnés par le Livre des secrets.
Prêts à jouer ?
"MY FAVOURITE LEGACY GAME!" Tom Vasel – Dice Tower, 20/09/19 :
© 2020 Dire Wolf Digital, LLC. All rights reserved. Publié par : Dire Wolf Digital and Renegade Game Studios. Dire Wolf and the Dire Wolf logo are registered trademarks of Dire Wolf Digital, LLC. ACQUISITIONS INCORPORATED and the "AI" logo are registered trademarks of Penny Arcade, Inc. Acquisitions Incorporated and the Jim Darkmagic, Omin Dran, Viari and Morgaen characters are properties of Penny Arcade, Inc. © 2010-2014. All rights reserved.